In 2017, the Cardano mainnet was implemented. The developments of this project have been completely academic and scientific. Among the significant improvements of the Cardano project, it is possible to mention the use of smart contracts, and for this reason, it has become a competitor for digital currencies such as Ethereum, Solana, and Polkadata. In this article, along with a brief introduction of the Cardano digital currency, we will examine the top projects of the Cardano network as well as some concerns and problems in the field of the Cardano network.
Cardano is one of the most innovative and exciting blockchain projects in this space, which many refer to as the "third generation" blockchain network, often due to its advanced encryption and performance compared to older, slower and less efficient blockchains such as Ethereum is admired.
As the world of Web 3 and the blockchain industry continue to grow and flourish, alternative networks such as Solana, Avalanche, NEAR , and Cardano are gaining popularity and attention as leading projects and DApps build in these ecosystems. be. Today, we are going to review 5 of the top Cardano projects.
These 5 Cardano projects are by no means an exhaustive list. With over 2,000 projects now sprouting and thriving on the Cardano network, these 5 projects are some of the ones that seem worth keeping an eye on.
Cardano digital currency
In 2015, Cardano was founded by Charles Hoskinson , one of the founders of Ethereum. The Cardano Institute controls the development of the Cardano platform. The non-profit Cardano Institute, located in Switzerland, develops and codes Cardano along with several other companies. IOHK is one of the companies that focuses on the development and research of Cardano digital currency. Emurgo company is also in charge of managing Cardano cooperation. The Cardano network has a native and proprietary token with the symbol ADA. The main use of the Ada token is staking , payment of transaction fees and governance in the Cardano network. The maximum supply of Ada token is 45 billion units.
Ouroboros is also a unique proof-of-stake protocol in the Cardano blockchain , which provides the ability to process hundreds of transactions per second in this blockchain. Of course, after implementing Hydra's scalable solution , the number of Cardano transactions will grow exponentially, so that each shareholder pool can process a thousand transactions per second. Cardano is one of the most decentralized cryptocurrencies in the cryptocurrency market because its staking mechanism is designed in such a way that when the number of staked tokens in the pool increases, the corresponding rewards decrease.
Alonzo: Getting Started with Cardano Smart Contracts
September 13, 2021 was a big day for Cardano as the Alonzo hard fork was successfully deployed and live on the Cardano network. The hard fork introduced support for Plutus-based smart contract functionality. Smart contracts are essential for any blockchain network that wants to support the DeFi, DApp, and Web3 application ecosystem.
Alonzo's promotion was anticipated as the Cardano network was previously referred to as a "smart contract platform without a smart contract" and many critics called Cardano a "ghost chain". Alonzo laid the groundwork for changing all of this, and developer activity has skyrocketed since then as Alonzo gives anyone the ability to create and deploy their own smart contracts and applications on the Cardano blockchain.
Since Alonzo's launch, Cardano has been toying with other major Tier 1 networks such as Ethereum, Solana, and Polkadot , and often has the most developer activity on the network. According to behavioral analytics firm Santiment, in mid-2022, Cardano was the most active platform for blockchain developers in the entire crypto space.
As many people in tech and crypto say, "follow the developers" because where development happens, things are built that are likely to attract users and investors.
Top projects of the Cardano network
1- MinSwap (MIN)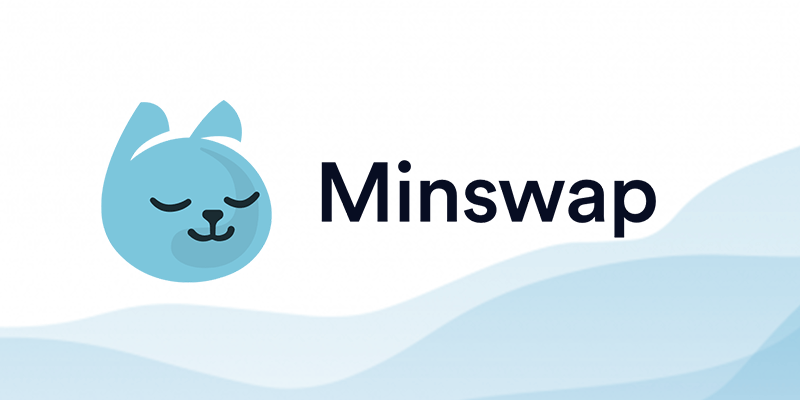 Of course, the first name in this list must be a DEX. Every good ecosystem needs a popular DEX, UniSwap on Ethereum, PancakeSwap on Binance Chain, QuickSwap on Polygon , Trader Joe's on Avalanche or Cerium on Solana, a solid DEX is the cornerstone of any valid layer 1 protocol.
DEX competition is fierce in Cardano. We saw a rare occurrence in the space where Cardano's first DEX, SundaeSwap   , failed to capitalize on its first-mover advantage as it was recently dominated in terms of TVL by newcomer MinSwap.
MinSwap has more than double the TVL as the second largest DEX and its dominance seems to be increasing. MinSwap aims to be the number one liquidity provider in the market by integrating the best asset models from the entire DEX ecosystem into one protocol.
MinSwap is a decentralized Automated Market Maker (AMM) exchange built on Cardano that allows users to trade and exchange assets with low fees in a user-friendly manner. One of the reasons for MinSwap's increasing popularity is its new and innovative strategy for token distribution and liquidity pools.
MinSwap uses a multipurpose liquidity pool that brings together the best features of other DeFi protocols. Rather than trying to reinvent the wheel, MinSwap liquidity pools are built on the following principles:
Fixed product pool by Uniswap

Sustainable pool by Curve

Multi-asset pool by 

Balancer

Dynamic pool by Kyber
The Babel fee mechanism used in MinSwap allows users to pay transaction fees in other tokens without having to hold ADA, which is another innovative feature of the platform. MineSwap is a game changer because traditionally on Ethereum platforms, users have to hold ETH to exchange both ERC20 tokens, which can be a huge hassle, especially for new users who don't understand that ETH needs to be held to cover network fees for Cover each. (out of more than 10,000 tokens in the Ethereum ecosystem)
2- SundaeSwap (Sundae)
Since the competition between MinSwap and Sundaeswap is so close, it can be understood that it is only fair to mention the name of another DEX in Cardano. SundaeSwap is a decentralized exchange protocol for the Cardano network that enables peer-to-peer trustless decentralized exchange of native and ADA assets.
SundaeSwap is an automated market maker ( AMM ) similar to makers like UniSwap and works basically the same way but runs on Cardano instead of the Ethereum network. Instead of the more common buy and sell orders found in order book systems on exchanges, Sundaeswap creates a "liquidity pool" of reserves between two assets where both assets are more or less equal in value.
When the pool is filled with assets, a trader offers a trade for one of the two assets in the pool, which causes the price of both assets to rise or fall, creating a new rate in the market. Instead of filling another trader's buy or sell order, the trader buys or sells directly in the pool.
The SundaeSwap protocol works using a decentralized, permissionless system, meaning that anyone, anywhere, can access it without restrictions. As long as a user has access to a Cardano wallet and the Internet, they can add and remove liquidity from a pool and exchange assets.
SundaeSwap's interface is well designed, easy to use, and its liquidity is sufficient for most traders' needs. 
3- Meld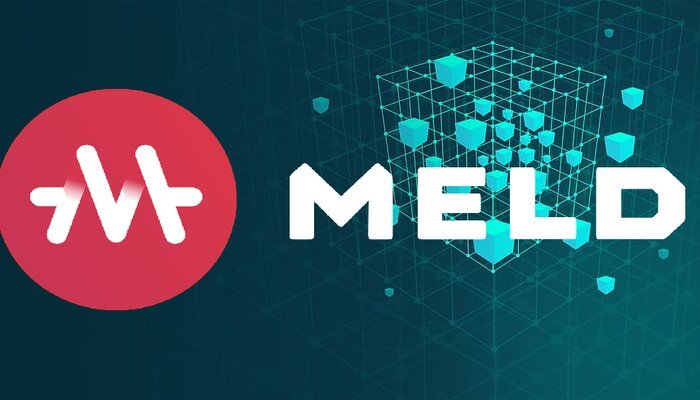 MELD is a DAPP for Kadano that made its presence known in the early days of Cardano's DeFi platforms thanks to an aggressive marketing campaign, a hardworking team of personnel, and notable advisors and partners who helped champion the project. In the first few months of launch, the platform has already secured over 600 million ADA in its equity pools and is currently the 11th largest project in the Cardano ecosystem in terms of total value locked.
MELD was the first DeFi app on Cardano to offer a full banking suite, allowing users to lend and borrow crypto and fiat. You can think of them kind of like Aave for Cardano. (but with fiat support to make it better)
With the advantages of being completely decentralized, trustless, borderless, democratic and secure, MELD provides users with the ability to:
Borrow: Get instant loans against crypto assets or a line of credit and only pay interest on what's used.
Earn interest: Crypto collateral is added to MELD's liquidity pools , generating returns for the life of the loan.
Maintain full ownership of assets: Users retain autonomy when lending or borrowing using MELD's instant liquidity framework.
Lending or staking : Users can earn returns by lending cryptocurrency or stakes in stock pools.
Here's a look at the single-page MELD:
The ability to borrow fiat is a game changer in the crypto space. The DeFi services offered by MELD are just one of the things that attract users to crypto, which is why this Cardano project is listed and has attracted partners and investors such as Polygon, World Mobile and others. Is.
MELD also has a debit card that works like Visa/Mastercard. Users can pay for goods and services with the card or use the card to store borrowed fiat. MELD is the closest platform we've seen to providing all the services you need for your real banking in a decentralized manner. Here's a flow chart to give you an idea of ​​how it works: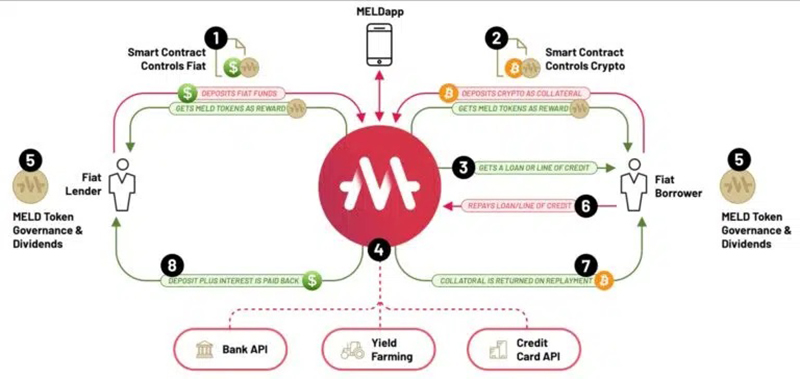 The fact that MELD is a decentralized platform has only strengthened the use cases and usefulness of DeFi in the wake of problems faced by centralized lending platforms such as Celsius, VAULD, Voyager Digital, and BlockFi, all of which suffer from problems stemming from the practices of Faced with poor risk management and human error, 2022 was a brutal year for crypto investors, but it strengthened the reputation, strength and utility of DeFi and highlighted the importance of self-protection.
How MELD compares to other lending solutions :
Lately, many crypto-enthusiasts have felt indifferent to the "new" DeFi protocols as many new protocols coming out of the woodwork are simply clones of protocols that already exist and many new platforms for innovation. They are failing. 
But MELD is one of the exceptions. The MELD project is a next-generation full-stack DeFi protocol and the closest platform that allows users to finally ditch their banks. 
4- Cornucopias (COPI)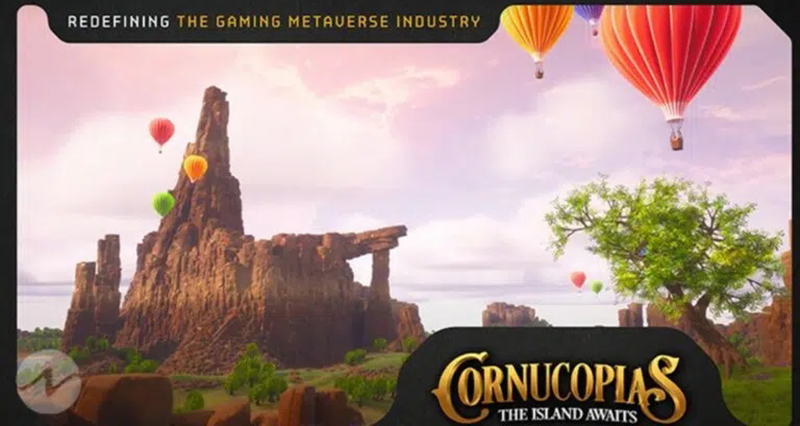 It is difficult to narrow down a single game project to the top Cardano projects because there are few influential games and metaverse projects launched on Cardano. It was a crossover between Drunken Dragon Games, a fantastic looking NFT integration style game, and Pavia Cardano's first metaverse. 
Cornucopias "The Island" is a blockchain-based Play-to-Earn, Build-to-Earn and Learn-to-Earn platform where players can be rewarded with land, real estate and other NFT-based assets or own it Let's take a closer look at each of the ways to earn money:
Play for money: By playing games, the player can earn digital currency that can be converted into real currency.
Crafting for Earnings: Players can craft their NFTs, such as furniture or tools, and buy them for other players.
Learn to earn: Cornucopias is partnering with educational institutions around the world to bring learning to the metaverse . Players/students can earn rewards for learning.
Stake-to-Earn: There will be opportunities for users to share and earn passive income and NFTs .
The "Island" is divided into a number of themed areas such as the "Wild West" area, the "Farm Life" area, the "Samurai Age" area, etc. Players can participate in a series of mini-games using the Play-to-Earn mechanic or design their own items such as furniture and decorations. Crafted items can be added to "island maps" that other players can buy and craft in-game, allowing those with a creative spark to monetize the crafting mechanic.
Cornucopias combines gaming with real-world business, providing unlimited potential opportunities for entrepreneurs, creators, designers, and gamers. This metaverse can be created by anyone in the world, including brands and companies that may want to work on the Cardano metaverse. The game's monetization potential and endless possibilities are one of the key reasons why Cornucopias is one of the most promising and exciting projects in the Metaverse that is attracting attention.
One of the main drawbacks of blockchain games so far is the sad, poor graphics and poor game mechanics that have made blockchain games a laughing stock of the serious gaming community. 
Cornucopias is changing that and aims to become the first Triple-A game on Cardano, before you roll your eyes at another game project that claims to be "Triple-A" quality but doesn't live up to its promises. Don't be disappointed, Cornucopias are a real shot here. Why?
Well, "Island" is built on the futuristic Unreal 5 game engine, which is compatible with PC, mobile and consoles. For anyone who's been in the game for more than a week, you probably know that running a game with the Unreal 5 engine is crucial as the game is known for its cinematic quality graphics and seamless motion mechanics. Some of the most groundbreaking, high-quality, and best-selling games of all time have been built on Unreal engines.
The Metaverse game project opens players to a whole new world of currency, economy and gameplay, where they can create and trade their own NFTs. This project has huge potential.
5- Empowa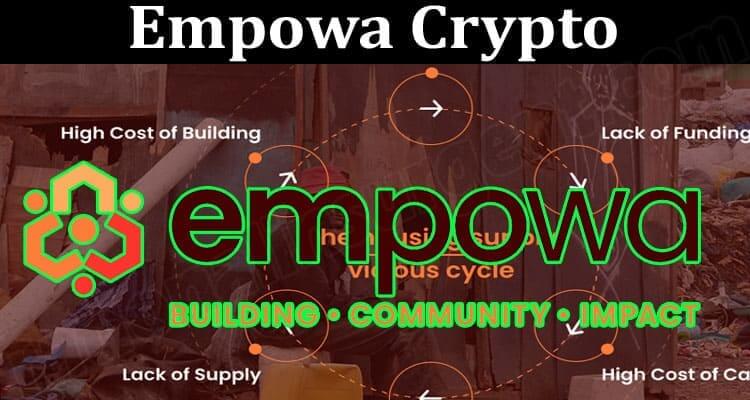 Another top project of the Cardano network is Ampava. Empowa is an extraordinary project that reminds us that cryptocurrency is more than imagination. Remember that cryptocurrencies emerged largely from the ashes of the 2008 financial crisis as an alternative to our corrupt and broken financial system.
Blockchain technology has the potential to make society exponentially better in many ways, something that is often forgotten as we fold our hands and hope for our favorite tokens to multiply by 10x.
Empowa is the first RealFi real estate platform on Cardano that combines emerging technology, sustainable building and decentralized financial inclusion for all. Empowa's mission is to provide affordable housing and banking services to those in Africa who do not have access to such services.
By building a better future using blockchain technology and Cardano's DeFi, Empowa can overcome the systemic problems that have stifled economic and financial growth in Africa and provide opportunities that were previously unattainable.
The Empowa Utility Token (EMP) allows individuals and parties to participate in the Empowa ecosystem and contribute to initiatives that focus on sustainable projects in Africa, all while using a common unit of value. Participants can also purchase NFTs from the Empowa NFT spectrum to represent their stake in the platform.
The term RealFi stands for Real Finance, which refers to blockchain-based applications that have real-world impact.
One target region, Mozambique, finds that only 1 in 50,000 residents have a mortgage, and rates can be as high as 32 percent. Zimbabwe tells a similar story with an interest rate of 45%. Rates like this leave 84% of Africans living permanently without a roof.
The cases mentioned are only part of the vicious cycle of housing in many parts of Africa, and Empowa aims to change that and is on a truly noble mission, addressing issues that have been neglected for too long.
Concerns about Cardano projects
The number of Cardano users is more than 1.6 million people, which adds to the attractiveness of this platform, but it has become a nightmare for its developers because with this volume of users, it is difficult to control the volume of traffic by dApps . Even the front-end website cannot be loaded easily. So if Cardano didn't have a concurrency problem, MiniSwap would fail.
Another issue is the non-disclosure of Cardano solutions. Of course, this is logical because if one of the Cardano projects, after solving the synchronization problem, makes its solution available to everyone in an open source form, another team will introduce this solution under its own name; Like what SushiSwap did with UniSwap. Of course, over time, several Cardano projects are disclosing their solution information, after which we should wait for the appearance of a large number of decentralized applications.
What is meant by the concurrency problem of the Cardano project?
There are positive features in the Cardano project, but Cardano's synchronization problem with the eUTxO model has caused this platform to have opponents and users and developers to have problems during the testing process of Cardano's smart contracts .
Conclusion
Cardano digital currency is a popular currency for investors and traders in the field of digital currencies. The projects that have recently been created on the Cardano network have not only increased the popularity of this platform, but also increased the number of its users. In this article, we tried to introduce you to some of the top projects of the Cardano network .